BORICA AD has successfully passed the audit for compliance with Regulation 910/2014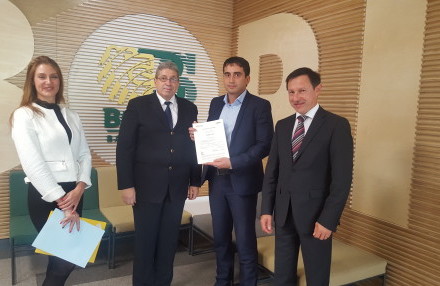 BORICA AD is the first certification service provider in Bulgaria that has successfully passed an audit for compliance with Regulation (EU) No 910/2014 of the European Parliament and of the Council of Europe on "Electronic identification and trust services for electronic transactions in the internal market".
The LSTI EAST EUROPE Accreditation Body – accredited in compliance with the Regulation, found out full compliance with the requirements of the Regulation. Acad. Georgi Stefanov, Manager and Lead Auditor of LSTI East Europe for Bulgaria, provided the certificate personally to the CEO of BORICA – Miroslav Vichev.
The audit confirmed that the certification services provided by BORICA: creation of qualified certificates for qualified electronic signature and creation of qualified electronic time-stamp are in compliance with the Regulation.
The Bulgarian Supervisory Authority – the Communications Regulation Commission confirmed the status of BORICA AD as a qualified provider of certification services by an official letter.