Business users monitor all their bank accounts on a single platform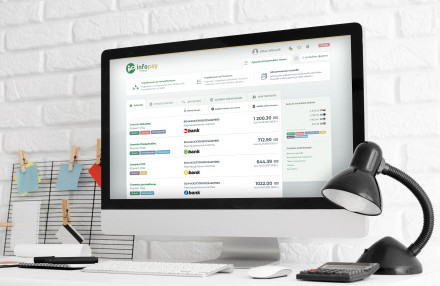 A new technology platform, in response to the so-called Open Banking, has been developed by the payment operator BORICA. Through it, business users get quick and easy remote access to their financial profile.
The InfoPay multi-banking platform is to help organisations that have accounts with different banks. It offers a number of features that make it easier for customers to manage their company finances. The platform is a single point providing 24-hour control of funds - consolidated information on balances and movements in all company accounts in different banks, payment account details, payment account list report, etc.
There are two main requirements for InfoPay customers - to have online banking and to obtain consent to register accounts with InfoPay from their servicing banks. The consent process is quick, easy and performed remotely on the platform itself.
The service is suitable for owners, managers, accountants and others for whom it is important to receive timely and summarized information about company funds. Access to the platform is based on roles and individual rights, allowing specific information to be accessed by different employees within the company, depending on their direct duties. This also makes it particularly suitable for accounting houses that serve multiple clients. Thanks to it, they have account information for all their clients in one place. A study by BORICA shows that using InfoPay reduces the time it takes to prepare financial reports by up to 4 times.
Two more useful functionalities in InfoPay are under development - integration with an ERP module of an accounting system and the possibility of automated payments. The integration with ERP module will allow automatic retrieval of information from all banks with registered accounts in InfoPay and its loading into the accounting systems of the company-client of the service. Automated payments of issued electronic invoices will also become possible, through which companies will be able to reconcile payments and receivables/payables from/to counterparties. Integration with BORICA's e-invoice service is also planned, which will provide even more options and convenience to users.
The InfoPay fintech service is a logical upgrade of BORICA's activities as a payment institution," says Daniel Aleksiev, Deputy Director of Payment Services at BORICA. "With the introduction of the PSD2 directive in the country, the Company was assigned the task to develop a nationwide technical standard for Open Banking to support and accelerate the process, and today, thanks to InfoPay, these services are available to a wide range of business users," he adds.
InfoPay registration is available both online and in-person. Online registration is at www.infopay.bg, using a qualified electronic signature, either hardware or cloud-based, or video identification provided by the company. The in-person registration is carried out at the sales office of BORICA by the legal representative of the legal entity - customer of the service. Customers pay for the service based on the number of accounts they wish to monitor, with a choice of three pricing packages.
Video instructions on how to use the platform are available on the YouTube channel of BORICA AD.